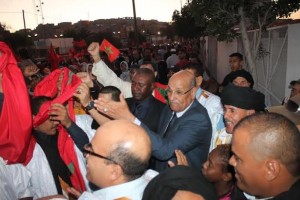 Following the firm speech delivered on Friday by King Mohammed VI on the occasion of the 40th anniversary of the Green March, some 30,000 people demonstrated Saturday outside the headquarters of the MINURSO in Laayoune, proclaiming that the autonomy initiative was the sole solution to the regional conflict in Western Sahara and demanding the departure of the UN mission.
For the demonstrators, the presence of the UN mission has become irrelevant since the inhabitants of Western Sahara repeatedly and firmly claim that the territory is an integral part of Morocco. The thousands of people gathered outside the headquarters of the MINURSO included elected representatives, notables, chiefs of tribes, and civil society activists.
The demonstrators were spurred by the mobilizing speech delivered by the Moroccan sovereign the day before from the city of Laayoune. The royal speech was addressed on the occasion of the Green March, the historical event that marked the end of Spain's presence in Western Sahara and the recovery of the territory by Morocco in 1975.
Moulay Hamdi Ould Errachid, the president of Laayoune Municipal Council, who was among the demonstrators, said the demonstration is a strong message to the international community to reaffirm the inhabitants' attachment to the autonomy plan as the unique solution to the Western Sahara regional conflict.
The demonstrators who were demanding the departure of the MINURSO which "has nothing to do in Morocco" called on the international community to act quickly "to free the Sahrawis held hostage by the Polisario in Algeria". They insisted that the top priority is to end the sufferings of these Sahrawis and enable them to return home to live with dignity.
The demonstration was staged in the wake of the speech delivered by the king on November 6. In this very firm speech, the Alawite sovereign stressed the responsibility of Algeria in perpetuating the tragedy of the Sahrawis living under the control of the Polisario in Tindouf.
The Moroccan monarch also announced the launch of the new development model of Western Sahara, a model based on the regionalization plan launched in Western Sahara before it is extended to other regions of the Kingdom.
While he was informally driving through the city of Laayoune Saturday evening, King Mohammed VI found himself close to the headquarters of MINURSO and was immediately surrounded by the demonstrators. As he usually does, he mingled with the crowd. And the frenzied demonstrators seized the opportunity to loudly voice their love for the sovereign and their attachment to the Sahara as a Moroccan territory.