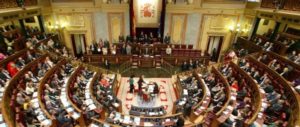 Times are definitely tough for the Polisario separatist front in Spain. The far-leftist Podemos party has failed to hold a pro-Polisario meeting at the Congress of Deputies, at a time the rest of the Spanish political class is turning its back on the separatists.
Actually, the government, led by Socialist Pedro Sanchez, banned the meeting at the Congress of Deputies. The Move was backed by all the other political parties, with the exception of Podemos, which strived hard to have the meeting hosted at the Congress of Deputies, but to no avail.
Before the Government cancelled the meeting, the ruling Socialist Party requested the Foreign Affairs Committee to give its opinion. The Committee's report, supported by the Popular Party (PP-opposition) and Ciudadanos (center-right), highlighted the possible consequences of Podemos's initiative on Spanish foreign policy, specifically with Morocco.
The firm reaction of Pedro Sanchez's socialist government is consistent with its position in favor of a realistic political solution to the regional conflict over the Sahara under the auspices of the United Nations.
In another development, Spanish Foreign Minister Josep Borrell had promptly reacted to King Mohammed VI's recent move towards Algeria, calling for the setting up of a joint political mechanism of dialogue to overcome bilateral differences. Borrell had described the king's proposal as "great news".
The same Borrell also defended the renewal of the agricultural agreement between Morocco and the European Union. The agreement was endorsed on November 12 at the level of the Committee on Agriculture and Rural Development of the European Parliament.