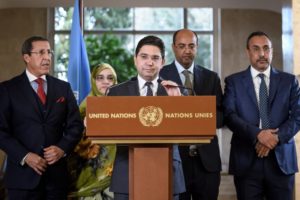 The year 2018 was an annus horribilis for the Polisario, which suffered unprecedented diplomatic setbacks. The separatists have been disavowed at the level of the European Union institutions, while Algeria is now considered by the international community as a stakeholder in the Sahara conflict and as directly concerned by the search for a political solution.
The consensus reached in the European Council and the European Parliament for the renewal of the agricultural agreement with Morocco, that covers the Sahara territory, confirms the position of the Kingdom while it weakens the Polisario. The Algeria-backed separatists actually failed in the legal guerilla they waged in the corridors of European institutions to foil the adoption of the Morocco-EU farm and fisheries agreement.
Recently, the Geneva Round Table, convened Dec. 5 and 6 at the initiative of the UN Secretary-General's Personal Envoy for Western Sahara, Horst Köhler, gathered Morocco, Algeria, the polisario and Mauritania.
Horst Köhler, supported by the Security Council, wanted to bring together the real protagonists of the conflict, in a meeting where Algeria was pushed to the front lines, while the Polisario appeared as what it truly is: a mere auxiliary.
In the backdrop of the Geneva meeting, there was of course the support of the main world capitals for the autonomy plan proposed by Morocco to achieve a credible and lasting political settlement of the Sahara conflict.
Although the Geneva meeting was held in a context of overture as King Mohammed VI had proposed few weeks earlier the creation of a political mechanism of dialogue between Morocco and Algeria to get out of the deadlock marring the two countries' relations, sadly, the Algerian regime preferred the easy way of evasion…