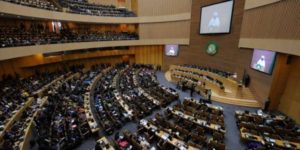 The 28th two-day summit of the African Union (AU), which opened in Addis Ababa on Monday, is highlighted by the presence of the majority of African leaders, but the most remarkable presence is without contest that of King Mohammed VI of Morocco, whose country is about to reintegrate the Pan-African organization.
On the eve of the summit, the Moroccan ruler held in the Ethiopian capital separate talks with several participating heads of State. These included the Presidents of Congo Denis Sassou Nguesso, of Equatorial Guinea Teodore Obiang Nguema, of Rwanda Paul Kagame, and of Guinean, Alpha Condé.
King Mohammed VI is personally leading the Moroccan delegation, evidence of Morocco's confidence that its diplomatic approach to return to the African Union will bear fruit.
This initiative will also allow the African community to question the legitimacy of the presence of the SADR within the Pan-African organization. Actually, this pseudo-republic, proclaimed in 1976 by the Polisario Front, with the support of Algeria and Gaddafi's Libya, is not recognized by the majority of the AU member states, nor by the United Nations.
Meanwhile, Morocco's return to the continental organization is supported by 43 member countries, i.e. a large majority of the 54 members.
Last July, shortly after Morocco expressed the wish to return to the African fold, 28 AU members formally requested the reinstatement of the North African country and the exclusion of the SADR.
The majority of African countries consider Morocco's presence within the AU as an asset for both the organization and for the continent, in addition to the fact that it will provide a new dynamic for inter-African relations.
Morocco, which was one of the founders of the Organization of African unity (OAU), the ancestor of the current AU, in 1963 is today one of the main investors in the Sahel and in West Africa, and the recent visits of Mohammed VI to East Africa have allowed the Kingdom to expand the list of its partners to English-speaking States.