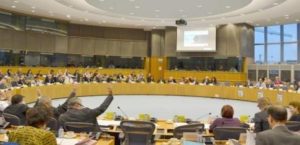 The descent into hell of the Algeria-polisario couple is continuing at the European level. The Fisheries Committee of the European Parliament adopted the Morocco-EU fisheries agreement, Wednesday (Jan.23), exactly one week after the adoption by the European Parliament of the farm agreement between the two partners, explicitly including the Sahara.
If the adoption of the agricultural agreement was a genuine political and legal tremor, which reverberated in Algiers and in the Polisario headquarters in Tindouf, the endorsement of the fisheries agreement by the EP committee buried their last hopes.
Indeed, the majority vote in favor of the fisheries agreement at the EP committee is the last step before the final adoption of the accord in a plenary session of the European Parliament, scheduled for February.
The blow is all the harder for the Polisario and its Algerian mentor that the vote of the fisheries committee, which decides on substantive issues, reflects the position of the majority of political groups represented in the European Parliament.
The fisheries agreement between Morocco and the EU, which sets the conditions for access for the European Fleet to Moroccan waters and the requirements for sustainable fishing, was signed on January 14 in Brussels.
The agreement covers the fishing zone extending from parallel 35 to parallel 22, from Cape Spartel in the extreme northern tip of Morocco to Cape Blanco in the extreme south of the country.