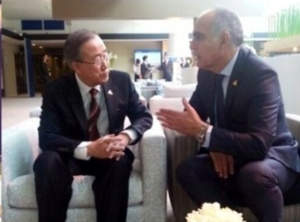 Morocco exacts that the African Union which has repeatedly demonstrated its bias in the Western Sahara territorial conflict is kept away from the issue that is currently handled by the UN.
Morocco is firmly opposed to any role or involvement, in any form whatsoever, of the African Union (AU) in the Sahara issue, said Moroccan Foreign Minister Salaheddine Mezouar.
In a letter to UN Secretary General Ban Ki-moon, the Moroccan official said "following the correspondence concerning the Moroccan Sahara issue that was sent to you recently by the African Union Commission, I would like to reiterate Morocco's outright opposition to any role or involvement, in any form whatsoever, of the African Union in this matter."
The recent maneuver of the AU seeking an interaction between its "special envoy" Joaquim Chissano and the Security Council, is "totally unacceptable" for Morocco, Salaheddine Mezouar said.
Explaining the Moroccan stand, the Foreign Minister recalled, among other things, that following the successive failures of the Organization of African Unity (OAU,) the issue was referred to the UN long time ago and the UN is now the sole and only organization supervising a political settlement process.
The pan-African organization had divested itself of all neutrality when it accepted the membership of the self-proclaimed Sahrawi Republic "SADR," an entity that does not fulfil any statehood criteria and that is not recognized by the United Nations, Mezouar said.
The AU, which is trying to revive obsolete proposals and plans deemed unworkable by the UN, obviously seeks to hamper the ongoing UN-sponsored efforts, said the Moroccan Foreign Minister, warning that any attempt to involve the African Union in this issue or allow it to play any role in it" would have serious consequences for the UN efforts."
He went on to say that the AU's manoeuvers are likely to deal a fatal blow to the whole political process conducted under the auspices of the UN.
For observers, the AU's new maneuvers which clearly bear the signature of the Algerian regime are unlikely to go through at the UN.