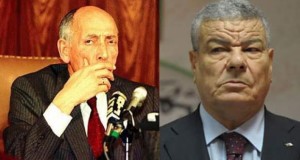 The threat has not gone unnoticed, especially that the message was relayed by a Polisario's website, known to be close to the Algerian military intelligence services (DRS.) By aligning a picture of President Mohamed Boudiaf, assassinated few months after he came to power, and a picture of Amar Saadani, the DRS sent a chilling message to the secretary general of the FLN.
An well-informed source from the Tindouf camps has confirmed that the FLN secretary general's statements on the Western Sahara issue that were aired by Ennahar TV have shocked Algeria as well as the Polisario leadership. The terrible Algerian intelligence services, now headed by Athman Tartag, will not forgive Amar Saadani for having hinted to a possible neutrality of Algeria in the Sahara conflict, the source said.
The shock was so strong that the threat to eliminate an apparatchik who dares to cast doubt on Algeria's support to the Polisario quickly surfaced. The question now posed by many Algerians, who know what the DRS are capable of doing, is whether Amar Saadani must take the association with Boudiaf as a warning or as a bad omen.
The same source notes that the DRS are used to this kind of operations. They will not hesitate, when they deem it timely, to liquidate Amar Saadani as they did with President Boudiaf. To explain the seriousness of the threat, our source refers to the very content of the article accompanying the picture-threat.
"The coming to power of Boudiaf in 1992 had triggered unprecedented disagreements between the Presidency and the Polisario. The tension was so high that maintaining the Polisario-run camps near Tindouf was questioned. "
But "shortly after the assassination of Boudiaf, things were automatically back to normal," explains the website "The Sahrawi future" reportedly funded by the DRS.