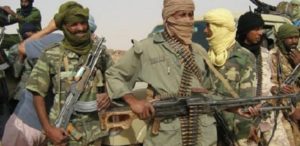 This is not the first time that Western media have echoed this reality. The details disclosed recently by Italian magazine Analisi Difesa came to confirm that the Tindouf camps, controlled by the polisario in southwestern Algeria, effectively constitute a breeding ground for the terrorist groups roaming in the Sahel-Sahara zone.
According to the Italian magazine, which devoted a special feature to the issue, the camps, run by the Algeria-armed separatist movement, now represent "a main source of recruitment" for terrorist organizations in the Sahel.
Whether AQIM, the Maghreb branch of the terrorist Al Qaeda group, or MUJAO (Movement for unity and jihad in West Africa) or other armed Islamist groups that are roaming in the vast Sahel-Sahara region, they all take advantage of the "serious social conditions" in the Tindouf camps to look for recruits imbued by jihadist ideology.
In addition to facilitating the enrolment of youth in rebel movements and terrorist groups, the situation of despair created by the Polisario in the Tindouf camps encourages the proliferation of all sorts of criminal activities. These activities range from drug and weapons trafficking, to Western hostage taking, migrant smuggling networks and trafficking in human beings, says the Italian magazine.