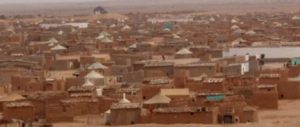 After the series of diplomatic setbacks it suffered at the European Union and the United States, the Polisario is crushed by a new scandal of misappropriation of funds destined as humanitarian aid to the Tindouf camps. The case was revealed by the Spanish daily The Provincia, published in the Canary Islands.
The diversion this time concerns about €2.5 million worth of international humanitarian aid, initially intended for the populations of the Tindouf camps, which are under the Stalinist domination of the separatist front in southwestern Algeria.
This large-scale diversion was unveiled by a polisario official who asked the separatist front leaders to give explanations on the missing funds. He could not get any answer, explains Miguel Angel Ortiz, the president of the Canary-Sahrawi Forum, in an article published by La Provincia.
"Once again, the polisario indulges in this kind of indecent practices and dishonest behavior towards the population it claims to represent and towards the international community which, in good faith, donates each year huge sums of money that are handled in a doubtful way by the polisario leaders."
Angel Ortiz concludes by saying that these diversions illustrate "the extent of corruption and how deeply it is rooted " in the ranks of the polisario.
The Algeria-backed separatist front had already been pinned in 2015 by OLAF, which documented the diversions. The European Anti-Fraud Office had then unveiled the existence of a vast system of diversion of international humanitarian aid as soon as it is disembarked in the Algerian port of Oran.
With the complicity of Algerian officials, the leaders of the Polisario ordered the delivery of much of the aid, not to the Tindouf camps, but directly to markets in Mauritania, Algeria and even Mali, where OLAF found products of the aid displayed for sale to the public.