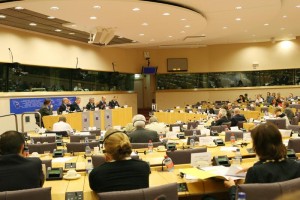 The Polisario is becoming aware that the propaganda strategy it conducted with the support of the Algerian diplomacy and its infiltration in European unions and associations have reached their limits, as clearly illustrated by the latest setback suffered by the separatists in the European Parliament, well informed sources from the Tindouf camps said.
The blow was dealt to the separatists at the European Parliament Foreign Affairs Committee, whose members rejected by an overwhelming majority the amendments proposed by pro-Polisario MEPs. The amendments suggested by lobbyists close to Algeria sought to criticize Morocco in the 2014 annual report of the European Parliament on human rights and democracy in the world.
MEPs felt that the charges against Morocco suggested by their pro-Polisario colleagues were unfounded and had no reason to be included in the report.
The rejection undermined the strategy adopted by Algeria in recent years and which consists in focusing attacks against Morocco at international level on the issue of human rights in Western Sahara.
According to the same sources, the loss of the human rights trump card from the hands of the Polisario, is partly due to the scandal of massive embezzlement of humanitarian aid. The scandal was revealed in January 2015 by OLAF, the European Anti-Fraud Office, which provided evidence that Polisario leaders and Algerian officials were involved in the misappropriation of international aid destined to the populations in the Tindouf camps.
This scandal is confirmed by testimonies of the Sahrawis who manage to flee the Polisario-run camps in Tindouf in south-eastern Algeria.
These Sahrawis say that anyone who dares to express opposition to the Polisario is considered a traitor or a spy for Morocco. And these are sufficient charges to justify all kinds of abuses against the opponents to the Polisario's thesis.