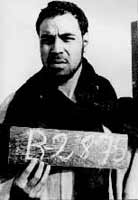 A conference co-organized by the university of Agadir and "Tarika Derkaouia Ibrahimia Al Bassiria" took place in Laayoune on the 16th and 17th of June.
The purpose of the conference was to pay respect to Sidi Mohammed Bassiri, considered by the Polisario Front as the original mythical figure of the guerrilla and without whom the Polisario would not exist.
During two days most of the participants (Experts, historians and people having close thighs with Sidi Mohammed Bassiri) have proved that this historical figure of the Polisario Front is actually a Moroccan "freedom fighter" who asserted very early the indexation of the Western Sahara to Morocco.
The conference has reunited the top "morals" sahraouis authorities.
The very discrete and skillful chief of the Moroccan Oulemas, Ahmed Abbadi came to give a religious and mystical support to the conference and even the Sahraouis having sympathies for the guerrilla went to the conference to listen to the lecturers because Sidi Mohammed Bassiri is a Sahraoui figure who transcends all cleavages.
This conference also has put to silence most of the media of the Guerrilla which are usually prompt to denounce "a Moroccan machination with the support of the imperialists"…