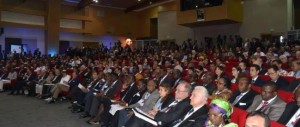 The Polisario has speeded up maneuvers in its attempts to derail the coming Crans Montana Forum slated to take place in Dakhla, the same venue as the edition of last year which had recorded a stunning international success to the great displeasure of Algeria.
The success of the latest edition has encouraged the organizers to convene the Forum's 10th annual session in March 2016 in this same southern Moroccan city.
The decision as well as the theme of this 10th edition, "Africa and South-South Cooperation," are infuriating Algerian officials. Hence the injunction they gave to the Polisario chief to stage a media campaign to undermine the forum, regardless of cost.
And of course, Mohamed Abdelaziz, who has just been re-elected leader of the Sahrawi separatist Front thanks to Algeria's support, could not refuse to return the favor to his benefactors.
Algiers and the Polisario are actually struggling so hard to foil the Crans Montana Forum because they are aware of the impact of the forum on the international arena. An impact that contributes to expand the international community's support to the Morocco-proposed autonomy plan for Western Sahara.
However, diplomatic pressures and media campaigns by Algeria and the Polisario do not seem to deter the organizers of the Crans Montana Forum.
The Forum President Emmanuel Quirin is categorical: "Dakhla is a unique experience of a successful local governance, based on entirely innovative concepts and approaches."
For him, Africa must overcome the obstacles hindering its development and its global integration. These obstacles "cannot and must not be regarded as inevitable." In this respect, "Dakhla stands as a model for all of Africa," he said.
The Crans Montana Forum has shown the world the impact that Morocco's vigorous development and investment policy has had in the southern regions of its territory, insisted Emmanuel Quirin.