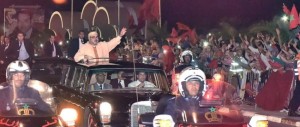 The visit of King Mohammed VI in Laayoune, the main town in the Western Sahara region, has distraught the Polisario leaders and the Algerian intelligence officers, who vainly sought to disturb the Moroccan King's visit in the southern provinces of the kingdom, the second in just three months.
According to a source from the Polisario headquarters in Tindouf, the separatist front's Chief Mohamed Abdelaziz and senior officers of the former DRS, become the DSS, have been thinking, since the announcement of the royal trip, about how they can disturb the visit, prevent that it is as successful as the visit the King paid to the city in November 2015 and prevent that the trip stands as a plebiscite ascertaining that the Sahara is Moroccan.
The few dozen Polisario supporters in the Western Sahara have no chance of succeeding in disrupting the visit. Those who are commonly called "les séparatistes de l'intérieur" i.e. the separatists living in Western Sahara, were noticeably absent during the King's previous visit in Laayoune in November and cannot do better today.
The Polisario and his Algerian mentors had to resort to old methods, which are inefficient but which create buzz. As Algerians had to deal with the emergency, they mobilized the official APS news agency, Algerian newspapers and a dozen pro-Polisario websites to launch a media campaign against Morocco, says the same source.
So, APS hurried to unearth the old slogans of "self-determination referendum for the Sahrawi people," the calls to boycott natural resources from the Western Sahara region and the issue of human rights. Many slogans that have been tested in the past without yielding any concrete results, particularly at the international level, as key world capitals now classify the Western Sahara issue as a vestige  of the old rivalry between Morocco and Algeria.