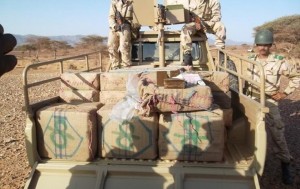 The tension is still high between Mauritania and the Polisario after the recent seizure of 2 tons of cocaine that traffickers from the Polisario were trying to smuggle out through Mauritanian borders.
According to sources from the Tindouf camps, following the seizure of this big quantity of drugs, Mauritanian authorities have tightened control over the Polisario members who were feeling at home in Nouakchott. Security services were monitoring some elements of the separatist Front that they suspected of petty crime, but they never thought that they were trafficking on such an unprecedented scale.
Since this operation was aborted thanks to intelligence provided by the US, Nouakchott decided to take things in hand. According to the same source, a tight control is imposed on the Polisario supporters in Mauritania, which is seen as a blow to the many apparatchiks of the Algeria-backed Front.
The Nouakchott – Zouerat – Tindouf road is used not only to convey products smuggled in from the Canary Islands, but also to transport much less trivial products, on top of which the highly lucrative cocaine coming from Latin America across the Atlantic to reach the Mauritanian coast.
And the traffickers do not limit their activities to this dangerous substance only. They also operate in weapons and ammunition trafficking as the arms trade is booming with the demand of all those jihadists and terror groups roaming in the Sahara-Sahel region, including AQIM and Boko Haram.
The revenues of all these unlawful activities used to end in the pockets of the Polisario officials and their cronies. And it is because of this loss that they are so bitter following the turn of events and the Mauritanian clamp down, the same source said.
This new scandal brings back to minds the story of the burned out airplane discovered in the Malian desert in 2009. The mystery of the plane, called by the Malian press "Air-cocaine," was elucidated in March 2011 when Malian authorities arrested two suspects.
It happened that one of the two suspects was a Sahrawi from the Polisario-run Tindouf camps. The two individuals were member of a network that was behind the landing of the small plane loaded with cocaine worth over €300 million.
No wonder that Western services pinpoint the vast desert region of the Sahara and the Sahel as the main route through which cocaine reaches Europe. According to estimates, in 2012, more than 18 tons of cocaine worth over $1.25 billion transited via this area.