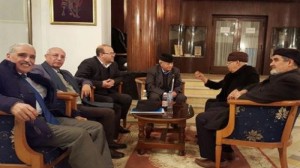 The Bensaid Ait Idder Centre for Studies and Research will hold an international forum on the Western Sahara conflict in Marrakech next April 8 to10. 
The Centre has faxed an official invitation to the leader of the Polisario Front, Mohamed Abdelaziz, to take part in the Marrakech conference, which will be attended by some 200 foreign participants from the United States, Europe, Latin America and Africa, in addition to many Sahrawi dignitaries from the Moroccan southern provinces, including heads of Sahrawi tribes.
The director of the Aït Idder Center, Ahmed Slimani, said the leaders of several Algerian parties, including the FLN, the RCD and Talaie Hourriyet of Ali Benflis, welcomed the forum initiative.
The initiative was presented to the Algerian politicians by the Moroccan nationalist militant, Mohamed Bensaid Ait Idder, member of the United Socialist Party (PSU,) during his visit to Algiers early February to take part in a memorial in honor of the Algerian Kabylie leader Hocine Aït Ahmed.
Ahmed Slimani revealed that envoys of the Aït Idder Centre will shortly visit Tunis and Nouakchott to invite political leaders of the two countries.
Regarding the participation of the Polisario Front separatists, the leaders of the Aït Idder Centre say they have received from the Moroccan state "guarantees that the Polisario leaders who wish to participate in the forum will not be arrested" during their stay in the Kingdom.
But according to observers in Rabat, despite these assurances, Polisario members and in the first place their leader, Mohamed Abdelaziz, will not make the trip to Marrakech, not because they fear to be bothered by Moroccan security but just because they will not be allowed to do so by Algerian authorities, that rigorously control the Tindouf camps on their soil.
On the contrary, the pro-Polisario people living in the Moroccan Sahara are free to go to Algeria, Tindouf or anywhere else.