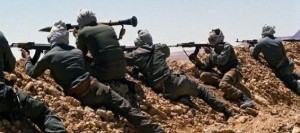 Algeria and its protégé, the Polisario, are trying to exert pressure on Ban Ki-Moon regarding the Western Sahara issue, as they aimed at the United Nations just few days before the visit of the UN Secretary General in Algeria and the Polisario-controlled camps in Tindouf.
The separatist Front has actually accused the UN of failing to find a solution to the Western Sahara issue and threatened to resort to arms against Morocco. And the task to express the threat has been entrusted to Mohamed Bouhali, the former "minister" of defense of the Polisario, who complied loudly and clearly in a column he published in Algerian El Khabar daily.
The fact that the task has been entrusted to this former soldier of the Algerian army as well as the timing of his column illustrate the determination of Algerian authorities, especially the military, to put maximum pressure on the UN Secretary General.
Informed sources in the Tindouf camps indicate that this maneuver has a double objective: present the Polisario as the victim and not as the party responsible for blocking the UN-sponsored political process, on the one hand; and disengage the separatists from the pressure exerted by the international community and the Security Council, which stress the need to adopt a constructive position and subsequently put the political settlement process back on track.
This is why, beyond its symbolic aspect, Ban Ki-Moon's trip in the region is felt by the Polisario and Algeria as extra pressure to get them to comply with the Security Council's recommendations.
The UN body had, in fact, called on the parties to show "realism and a spirit of compromise" to reach a final settlement of this regional conflict. The appeal became all the more pressing after Morocco presented the autonomy plan for the Sahara.
According to the sources in Tindouf, Algerian officials are also embarrassed to see Algeria placed at the forefront of the protagonists of the Western Sahara issue, at a time they claim that their country is not party to the conflict.