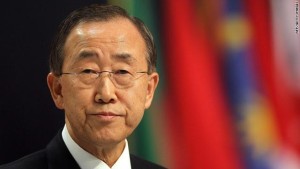 Ban Ki-Moon will remember for a long time his tour in the Maghreb region.  The UN Secretary General has actually irked several members of the Security Council because he let the Polisario and Algeria manipulate him.
By taking the initiative to try to revive the settlement process of the Western Sahara issue, Ban Ki-Moon recklessly stood as the Polisario's defense attorney, some Security Council members said.
Informed sources in the United Nations corridors in New York also revealed that several member countries of the Security Council were disappointed by the attitude of the Secretary General, who accepted to take a picture near the flag of the self-proclaimed Sahrawi Republic.
This attitude is all the more incomprehensible as no permanent member of the Security Council, and, more generally, no major capital in the world recognizes the so-called Republic proclaimed by the Polisario and its mentor, Algeria.
Additionally, not only he did not make the slightest allusion to the census of the Tindouf camps population, as it was recommended by the Security Council, but Ban Ki-Moon went even farther in his bias.
He carefully avoided to talk about the autonomy plan put on the table by Morocco, while this concrete proposal has been described by the Security Council as a "serious and credible" initiative that can serve as a basis for a final settlement of the Sahara issue.
Members of the Security Council are concerned that this biased attitude could undermine the role of the UN Secretary General in the conflict, at a time Ban Ki-Moon is leaving his position at the head of the UN in December 2016. His role as a mediator requires neutrality if he genuinely wishes to push forward the settlement process of the Sahara conflict, whose strings are pulled by Algeria. The Polisario? It is a mere smoke screen.