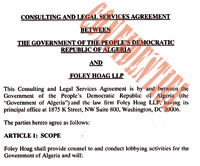 In 1993, the representative of the Polisario Front in the United States Mouloud Said has signed
an unlimited contract with the lawyer Paul S. Reichler
referring to lobbying among "members of the congress, their staff and members of US executive".
The contract stipulates that all the lawyer's expenses will be charged to the Polisario Front.
Actually the matter is not that clear. It happens that the lawyer Paul Reichler is part of the "
Foley Hoag LLP
" firm which
signed with Algeria an annual contract of almost 360.000 $ renewed in 2007
and which "Polisario Confidentiel" hands it exclusively to its readers.
Is this a Coincidence? Certainly not. According to a high ranked source in the Polisario Front, the Algerian contract with this big law firm was "to hide" the real lobbying activities, namely the discrete approach of members of the US congress to support the Algerian theses on the Sahara conflict.
In fact, for its "official" public relations in the United States, Algeria uses the services of "
Carmen Group
«to help softening" its image within the US executives who are regularly annoyed by the Algerian standpoint.
This new revelation comes to put an end to the Polisario charges which constantly accuses Morocco of using lobbyists, while denying using the same practices.
The Polisario Front uses many lobbyists, but it is Algeria which pays for them. This is in total opposition with the Algerian official side which affirms regularly that "Algeria is not part of the Western Sahara conflict".
To be continued…