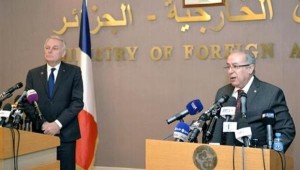 According to informed sources in the Polisario headquarters in Tindouf, the Algerian government was keen to publicize its Sunday meeting with Polisario officials for a very specific purpose: to send a message that Algeria's commitment to the Sahrawi separatist front is not only political and diplomatic but also military.
The fact that General Gaid Salah, the Algerian deputy defense minister and army chief, has been invited to the meeting with the Polisario, corroborates an Algerian military escalation, the sources said. This escalation was confirmed by the military maneuvers conducted by the Sahrawi separatist front in the demilitarized zone of Bir Lahlou, immediately after the end of the Algiers meeting.
Combining military threat to diplomatic pressure, Ramtane Lamamra, the Algerian Foreign Minister, called on France to reconsider its position on the Morocco-proposed autonomy plan, a plan that Paris has steadfastly upheld, regardless whether the Government is from the left or from the right.
However, being aware that France sticks to its position knowingly, since it was, with Spain, the colonial power in North Africa and knows therefore the ins and outs of the Sahara issue, Lamamra conceded that this was a matter of perpetual "disagreement" between Paris and Algiers.
The answer of the French Foreign Minister, Jean-Marc Ayrault, on a visit Tuesday in Algiers, was not going to appease Lamamra's despair: "It's a thorny, difficult issue, which should not be a stumbling block in the friendship between France and Algeria." A simple answer which clearly tells that France is not changing its standpoint on the Sahara conflict.
Algeria is thus caught and hoisted on its own petard. Not knowing how to end the Polisario adventure, it seeks escalation at a time world capitals consider the Algerian project to create a republic in the Sahara, with a population of less than one million inhabitants, is utter madness.