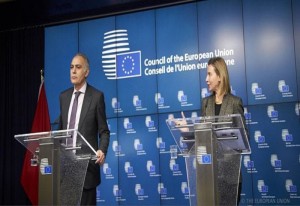 After it followed with concern the indignant reaction of the Council of the European Union following the cancellation of the Morocco-EU farm deal, the Polisario has been shaken by the appeal lodged by the 28 against the decision of the European Court, an appeal that challenges the very representability of the Algeria-backed Sahrawi Front.
In its appeal, the EU's decision-making body argued that "the Court erred in law in finding that the claimant (the Polisario) had standing to bring a petition before the Court of the European Union."
The Polisario which was so far just worried by the issue is now in complete disarray. The EU Council goes beyond the economic nature of the EU-Morocco agricultural agreement and puts the ECJ face up to its responsibilities: since the European Union does not recognize the Sahrawi front, the ECJ cannot act on behalf of the 28 EU Member States and open the door to the Polisario.
This position was reiterated by Federica Mogherini during her visit to Rabat on March 17. The head of European diplomacy had then recalled the strong support of the whole of Europe to Morocco concerning the ECJ decision.
The rest of the story is known. Morocco resumed contacts with the European institutions to the great satisfaction of Brussels and major European capitals.
But on the other side, the Polisario was struggling to hide its bitterness to see European institutions deny its representability, a disclaimer which falls in line with the decision taken by Sweden a few weeks earlier.
After a careful scrutiny of the Sahara issue and of the conflicting parties, Stockholm had come to the conclusion, published in an official press release on January 16, 2016: "Under international law, the requirements for recognition of the Sahrawi Arab Republic are not fulfilled."