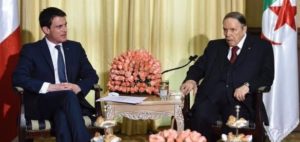 The French Prime Minister's visit in Algiers has just brought another disappointment to Algerian leaders, who could not snatch any concession from Manuel Valls on the Sahara issue. The diplomatic setback was even more bitterly felt by the Polisario, as reported by an informed source in Tindouf, HQ of the Algeria-backed Sahrawi separatist Front.
Yet, it is not because of lack of will on the part of Abdelmalek Sellal. The Algerian Prime Minister had actually placed all his bets on the Saturday meeting in Algiers. The goal was to influence, at least slightly, France's position on the Sahara issue. But Manuel Valls has not moved an inch.
The economic blackmail Algerian leaders resorted to, through the billion-dollar contracts offered to French companies, has not had the expected result. And it is most likely the reason behind the last minute postponement of the signing of the agreement on the establishment of a Peugeot Citroen plant in Algeria, although the signing ceremony was scheduled at this French-Algerian meeting.
The Algerian media were no more successful than Algerian diplomats, signaling that France's standpoint on the Western Sahara issue was not a contingency standpoint.
Manuel Valls has indeed skillfully avoided any controversy with the media. At the press conference he held jointly with Sellal at the end of the 3rd session of the high joint commission, the French Prime Minister was rather terse.
Answering an Algerian journalist, who accused in his question Paris of "alignment" on Morocco's position in the Sahara issue, Manual Valls cut him short saying calmly that France's standpoint "has not changed."
The French Prime Minister went on saying that France assumes "its responsibilities as a permanent member of the UN Security Council."