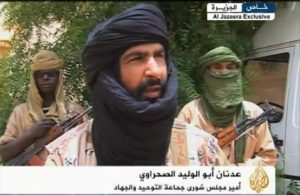 The latest outing of the terrorist Abu Walid El Essahraoui marks a turning point. The Polisario former official called on his supporters to stage attacks on tourists and on other sensitive targets in Morocco as well as against the MINURSO staff, confirming thus the terrorism turn taken by several members of the Algeria-backed separatist front.
Abou El Walid Essahraoui urged, in an audio recording, the Polisario youths "to support the Islamic caliphate" in the Maghreb. This call confirms the fears expressed by terrorism experts years ago. All had agreed that the narco-terrorism connections of an increasing number of the Polisario members would eventually precipitate the movement in terrorist networks.
These concerns and predictions are now confirmed by Abu Walid El Essahraoui, a Polisario former official who had distanced himself from the head of AQIM, Algerian Mokhtar Belmokhtar, in May 2015, and swore allegiance to the Islamic State terrorist organization.
Essahraoui, who had attended a university in Constantine, Algeria, is also suspected of having close links with Algerian intelligence services.
Yet, Abou El Walid Essahraoui is just one of the many Polisario executives who went through the terrorist groups'camps proliferating in the vast wastelands of the Sahara and Sahel.
In late December 2014, the liberation of French hostage Serge Lazarevic in exchange for four jihadists who were held in Mali, had embarrassed the Polisario leadership. One of the four jihadists, who were held by the Malian authorities for terrorist activities, was a Polisario executive, Habib Ould Maouloud.
Actually, AQIM leaders who negotiated the exchange had insisted on the release of Ould Maouloud with three other fighters, Mohamed Aly Ag Wadoussène, Haïba Ag Achérif and Tunisian jihadist Osama bin Gouzzi.
What was more resounding was the kidnapping in late 2011 of three international aid workers, two Spaniards and an Italian, from inside the Polisario HQ in Tindouf. This hostage taking had convinced, if need be, the specialists of the dangerous connivance between the Sahraoui separatist movement and the terrorist groups roaming in the Sahel.