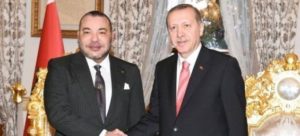 The visit undertaken by a delegation of Turkish economic operators in southern Morocco on Wednesday, part of their prospection for investment projects in the Sahara, angered Algerian leaders who saw it as another blow to their efforts to impose the Polisario diplomatically.
The delegation, led by the Chairman of the Turkish Investors Council, visited Laayoune, the capital of the Sahara, before proceeding to Dakhla, a region that is witnessing unprecedented economic and touristic development.
Algerian leaders' irritation can, however, be easily explained. They know too well that the Turkish investors' trip could not take place without the consent or even the encouragement of President Erdogan. Moreover, the position of the Turkish Head of State on the Sahara issue is unequivocal. He considers the Polisario as a pure product of the Algerian regime, and the Sahara independence claim as a mere pretext to maintain pressure on their Moroccan rival.
The bitterness felt in Algiers and in the Polisario HQ because of the Turkish delegation's visit is all the greater that the trip comes just few weeks after another significant visit made by Saudi economic policy makers. This was another disappointment for the Polisario, but more than this, it was a clear warning from Riyadh to Algiers on the Sahara issue.
Besides, Saudi Arabia had not hesitated to invite King Mohammed VI to a summit with the leaders of the Gulf Cooperation Council on April 20 in Riyadh. The summit, the first of its kind between the King of Morocco and the powerful leaders of the Arab Gulf states, was crowned by a very strong statement. The statement affirms that the GCC countries and Morocco form a strategic unified bloc, since whatever affects the security of any one of them affects the security of the others.
The document came as a great shock to Algiers. Algerian leaders realized that Gulf Countries have thereby clearly expressed their military support to Morocco in order to restore a strategic balance with Algeria, whose military spending exceeded $13 billion in 2015.