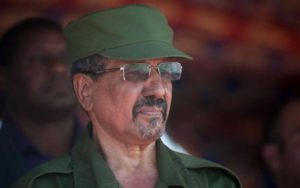 The Sahrawis in the Tindouf camps have no illusions as to the successor to Mohamed Abdelaziz, who passed away on Tuesday. They know that the Polisario is the exclusive power of Algerian officials.
While Mohamed Abdelaziz was battling cancer, senior members of the Algerian security services picked the future leader of the Polisario, according to informed sources in the Polisario-run Tindouf camps.
The successor to Mohamed Abdelaziz will be no surprise. He will be selected among the Polisario dignitaries who are most obedient to Algerian officials, the same sources said.
The same sources added the announcement that a new leader will be elected in forty days is a mere stage production meant to make the Sahrawis believe that they are free to elect a new leader.
The name of Bachir Mustapha Sayed is already discarded. Bashir, very popular in the camps, is the brother of the founder of the Polisario El Ouali who was liquidated by the Algerian services in 1976. Bashir is known for his independence of mind, unlike Mohamed Abdelaziz who showed blind obedience to his Algerian mentors.
Bachir Mustapha Sayed who supports a political solution with Morocco to end the Sahara conflict does not enjoy the backing of Algerian rulers. His standpoints were also behind his eviction from Mohamed Abdelaziz's inner circle.
The recurrent names being circulated are Mohamed Lamine Bouhali, former "Sahrawi Minister of Defense" and Abdelkader Taleb Omar, the so-called "Prime Minister." Yet, at the Algerian presidency, they deem it unwise to entrust the Polisario leadership to Bouhali because he is quarrelsome and unpredictable.
As for Taleb Omar, he has the qualities of obedience so much cherished by the Algerian Generals. Meanwhile, and part of the elaborate stage production, Addouh Khatri, President of the so-called "National Council" will be the acting Polisario leader.