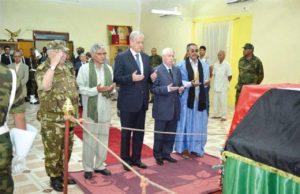 The funeral of the Polisario chief Mohamed Abdelaziz last Saturday was a moment of truth not only for the separatist front, but also and more particularly for Algeria, which was appalled by the absence of foreign representatives at the funeral, according to well-informed sources in the Polisario headquarters in Tindouf.
Yet, it is not because of lack of will on the part of Algerian authorities. The death of Mohamed Abdelaziz has indeed mobilized virtually all Algerian media. For their part, the Polisario's innumerable electronic sites, paid by the DRS, tried to saturate the web after the announcement of Abdelaziz's death.
Algeria was obviously seeking to make of Mohamed Abdelaziz's death an occasion to give a new impetus to the separatist project in the Sahara, a project that Algeria has failed to sell to world capitals, say the same sources.
But the scheme did not work and what was intended to be a great promotional opportunity, turned out to be a resounding diplomatic failure for both the Polisario and Algerian officials.
What made things worse is that even Spain, the former colonial power in the Sahara, considered by the Polisario leaders as a potential ally, did not bother to send any representative to the funeral. Spain's absence has rankled the Polisario leaders while Algerian rulers could not understand the ins and outs of this absence.
On Saturday June 3, only a few leaders of the Polisario and some representatives of the Algerian regime, including the Prime Minister, the Senate President and some generals, were present in Tindouf airport to receive Mohamed Abdelaziz's casket.
The same isolation and loneliness marked the funeral the following day. Describing this scene of desolation, the Spanish newspaper El Pais wrote, Saturday, June 4 "the insignificant international presence at Mohamed Abdelaziz's funeral reflects the front's isolation at the international level."