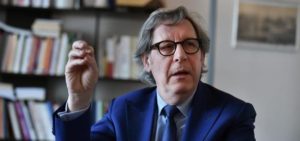 MEP Gilles Pargneaux got straight to the point when he said that the Sahara conflict has become a major concern and a domestic policy issue for the Algerian State.
The Socialist MEP made the statement when responding to Algeria's ambassador in Brussels who had criticized him for supporting the autonomy initiative proposed by Morocco as a solution to the Sahara conflict.
Gilles Pargneaux was quick to hit back. These criticisms are "evidence, despite the repeated denials of Algerian authorities over recent years, that this conflict is a major concern of the Algerian State and has become a domestic political issue," he told the Algerian diplomat.
Actually, Gilles Pargneaux has based his remarks on an observation that became clear-cut evidence in major world capitals: Algerian leaders secure the Polisario's diplomatic and media survival only in order to maintain pressure on Morocco, presented to the Algerian people as the enemy to be defeated.
Algerian MP from the ruling FLN, Wahid Bouabdellah, has recently raised a storm when he dared to admit that the Sahara issue is a matter between Algeria and Morocco, without mentioning the Polisario. This storm illustrates the pressure exerted on the iconoclastic voices in Algeria.
Before Wahid Bouabdellah, the FLN Chief Ammar Saadani had alluded to a possible neutrality of Algeria in the Sahara issue. The remarks earned him a hardly veiled assassination threat. One of the newspapers close to the DRS services did not hesitate to publish an image juxtaposing pictures of President Mohamed Boudiaf, assassinated in 1992, and that of Ammar Saadani.
Concerning Mohamed Boudiaf, the recent request by his son Nacer to reopen the investigation into the assassination of his father, stems from the same "Algerian State's major concern" mentioned by the MEP, because the Sahara issue is the underlying motivation that cost President Boudiaf his life.
His son is adamant. It was General Khaled Nezzar, former Algerian defense minister, and the former head of the DRS, Toufik, with the help of General Larbi Belkeir, who treacherously convinced Boudiaf to return home from his exile in Morocco, before they organized his assassination on June 29, 1992 in Algeria.