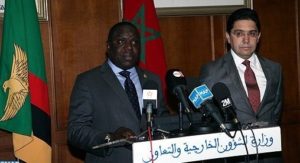 Zambia withdrew its recognition of the fanciful Sahrawi republic "SADR" and severed diplomatic relations with the self-proclaimed entity.
The decision paves the way for other Anglophone African countries to follow suite, as most of the countries still supporting the Polisario Front mercenaries do so under the pressure of the Algerian regime.
Zambia's breaking up with the Sahrawi separatist movement was announced Saturday night in Rabat by visiting Zambian Foreign Minister Harry Kalaba, at the end of his meeting with Junior Foreign Minister, Nasser Bourita.
The Moroccan side welcomed the Zambian decision especially that it was made by one of the African English- speaking countries, which have long been fooled by Algeria and its diplomatic maneuvers, openly seeking to harm Morocco and its territorial integrity.
On the contrary, the move was devastating for Algerian rulers and for the secessionist Brahim Ghali who was propelled by the Algerian military intelligence services (DRS) to the leadership of the Polisario Front and its SADR, in replacement of Mohamed Abdelaziz, who died on May 31.
In an obvious staging, the DRS-imposed Brahim Ghali, the single candidate to the Polisario leadership, was acclaimed as expected, at the Front's 15th extraordinary congress held July 8-9 in the Dakhla camp, one of the Tindouf camps established in the Algerian desert.
Commenting on the split between the government of Lusaka and the Polisario, an African diplomat accredited to Rabat deemed the decision normal. He explained that Zambia has finally realized the dangerous extent of the maneuvers orchestrated, since the cold war era, by Algeria in Africa and especially in the English-speaking zone, where it enjoys the support of South Africa and Nigeria.
For the African diplomat, Zambia's decision is a kind of bonus awarded to Brahim Ghali following his pseudo election that was staged in Tindouf under the watchful eyes of the DRS Officers and the Algerian army.