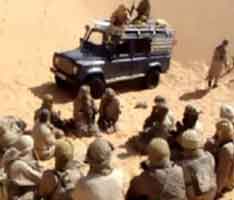 Since last week, the Polisario Front is trying by all means to spread the information that it would have captured some of the men who perpetrated a fatal attack against the Mauritanian army on September 14 in the area of Zouérate. Eleven military and a local guide were victims of this attack apparently orchestred by Al-Qaida in the Islamic Maghreb.
The Polisario Front, advised by lobbyists and consultants paid by Algiers ("
documents proving that Algeria pays Polisario lobbying invoices
") wants to be pursued as a rampart against the proliferation of Islamist terrorism in the area.
The problem for the revolutionary movement's new strategy is that no media wanted to broadcast this information, given the fact that the "Extras" recruited by the Polisario to play as terrorists were in fact members of the guerilla. A sum of 2000 dollars was promised to them by the Front to accomplish this mission. Unfortunately, the amount promised would have seriously shrink, international financial crisis and various "intermediaries" who have helped themselves with the promised money to blame.
Seeing no money coming, the Extras decided to "talk" which has caused the anger of the political police chiefs of the Polisario Front who then… put them immediately in jail.
Within few days, the apprentice's actors have become … prisoners.