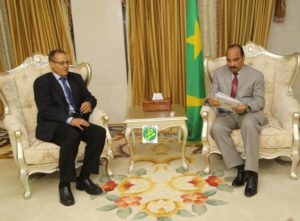 The Polisario leadership is unsettled since Morocco announced in July its intention to reintegrate the African Union (AU) especially that Morocco's demand is supported by some thirty member countries, which are insistently requesting the expulsion, the soonest possible, of the Sahrawi Republic "SADR" self-proclaimed by the Polisario Front.
The Polisario and its new leader, Brahim Ghali, who was catapulted at the helm of the separatist front by Algerian authorities, are taking these two moves very seriously.
In a vain attempt to derail the motion, submitted by 30 African countries to the AU presidency at the 27th African summit held last July in Kigali, the Polisario leadership dispatched emissaries to some of the few countries that recognize the "SADR" to convince them not to support the amendment of the AU charter.
Polisario emissaries have thus visited Ethiopia, Uganda and Mauritania, to convince their leaders to oppose any amendment to the AU charter that may make it possible to expel a member state from the pan-African organization. Details of the talks held in these three countries were not disclosed. Yet, sources in Nouakchott indicated that the Mauritanian President had declined a Polisario's request to open an embassy in Mauritania.
In its current form, the AU charter does not provide for the expulsion but only for the suspension of a member in case of access to power by force.
It turns out that SADR, which is not recognized as a state neither by the UN, nor the European Union nor any other regional or continental body, apart from the pan-African organization, could be the first member to be ejected in case the AU charter is amended.
This possibility actually exists, since the revision of the Charter adopted on 11 July 2000 in Lomé, capital of Togo, requires the demand of only 36 member states, i.e. two thirds of the AU members.
Once readmitted within the AU, probably at the next AU summit, scheduled for January 30-31, 2017 in Addis Ababa, Ethiopia, Morocco will need to convince only five or six other members to support the amendment and launch the procedure.
These probabilities are worrying the Polisario leaders and their Algerian mentors who continue supporting their independence whims.