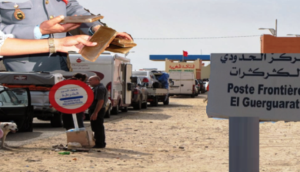 The Polisario tries to elicit sympathy by any means. It is in this context that it vainly appealed to the United Nations after the combing operation conducted by Moroccan security services and customs authorities in the region of Gargarate at the border between Morocco and Mauritania, in mid-August.
Despite the statement issued Sunday, August 28, by Stéphane Dujarric, Spokesperson of the UN Secretary General, stating that Ban Ki-moon was "deeply concerned" by the situation in the buffer zone of Gargarate, the cleaning operation is fully justified.
The operation is not only meant to fight smuggling in this sensitive area, but it is also destined to clean the buffer area where all kinds of trafficking proliferate. The returns of this trafficking are reportedly financing terrorist groups in the Sahel.
The dismantling by the Moroccan gendarmerie and customs authorities of this gathering point of smuggled vehicles and the seizure of some 600 cars are only the tip of the iceberg in this desert area where the trafficking of vehicles, oil, cigarettes, hard currencies, etc. is thriving.
So, Morocco's initiative to build a road section is part of the sanitation and security operation in this border region between Morocco and Mauritania, become a high-risk area.
Moreover, the Polisario's repeated allegations accusing Morocco of military operations in the Gargarate region were clearly denied by the UN. Farhan Haq, a UN spokesperson had said, in response to the separatist movement's complaints, that the MINURSO deployed August 16 and 17 ground and air capabilities to investigate allegations of violations in the southwestern part of Western Sahara near Mauritania.
But despite the mobilization of these means, the UN mission "has not observed military presence or equipment in the buffer strip," the spokesman had said, providing thus a scathing denial of the Polisario's allegations. And the separatists' attempts to create a media buzz have once again collapsed.