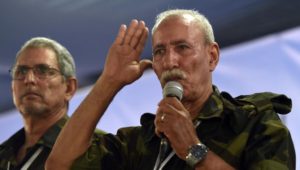 Over a period of just ten days, the Polisario sustained a series of setbacks that made it clear to the Algeria-backed separatist movement that the diplomatic battle it is waging against Morocco about the Sahara is far from turning to its advantage.
The black series began with the case of Guergarate, a no man's land located at the border area between Morocco and Mauritania. This desert piece of land, dubbed Kandahar because of the trafficking thriving there, had become a hub for smugglers and traffickers of weapons, migrants, drugs, stolen cars…
Algerians, seeking to score points, thought it wise to push the Polisario to oppose the operations undertaken by Morocco in the area, namely the cleaning of the area from traffickers and the paving of a 4-km long road between the Kingdom and Mauritania. The duo went as far as involving the MINURSO in the hype. But the agitation stirred by Algerian diplomats and the Polisario relays in New York did not produce the desired effect in the Security Council. The manoeuvers were fruitless.
The second setback suffered by the Polisario took place at the level of the Non-Aligned Movement (NAM), when Venezuela attempted to include the Polisario in the list of guests invited to attend the NAM summit. The move was strongly opposed by the member countries of the Gulf Cooperation Council (GCC) and several other states, forcing Venezuela to rescind its decision.
Another blow was dealt to the Polisario and its Algerian mentors last Tuesday in Luxembourg. While Algiers believed that the ruling of the European Court of Justice in December 2015 that annulled some provisions of the Morocco-EU agricultural agreement was final, the Court's Advocate General put the records straight.
Not only he recommended the Court to dismiss the case brought by the Polisario, but he also made it clear that the Saharawi Front does not have any legal authority to lodge a complaint at the European court on behalf of the Sahrawis. The Advocate General dismissed all the arguments of the Polisario and insisted that the separatist Front is not entitled to defend the economic interests of the local population.
After this latest setback, the Polisario tried to make against misfortune good heart, but the disappointment was palpable in the statement it issued in response to the plea of the Advocate General of the European Court.