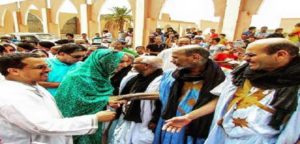 The campaign for the legislative elections in Morocco is in full swing, but for the separatist Polisario front, it is a source of additional hassle.
The front's leader Brahim Ghali fears above all a new record turnout in the constituencies of the Sahara, like the turnout scored during the local and communal elections held in September, 2015.
The Polisario is not the only side distraught at the prospect of a repeat of the strong participation of the inhabitants of the Moroccan Sahara provinces in local elections last year. In Algeria too, leaders are particularly concerned about the high participation rates that are regularly registered in the Sahara during elections. This high turnout shatters the separatist front's claim that it represents the Sahrawis in the Saharan provinces.
The Polisario's panic is mirrored in the letter Brahim Ghali has just sent to the UN Secretary General Ban Ki-moon, wherein he protests the holding of the legislative elections of October 7 in the Sahara. The Polisario leader's reaction is somehow understandable because the painful memory of the elections of September 4, 2015 is still vivid in the separatists' mind.
The Algeria-backed front had then been greatly discomfited by the strong involvement of the Sahara residents in the local elections, both as voters and as candidates. The September 2015 elections had seriously challenged the Polisario and its Algerian mentors. They both realized that the pro-Polisario activists settled in the cities of Laayoune and Dakhla were far from having the influence they claimed to have.
These few pro-Polisario activists are regularly invited to Algeria, where they are trained to the techniques of urban insurrection. But the recipe does not work. At best, they make some videos of children throwing stones at public buildings and post them on social networks to create a buzz.
And it is this reality that scares the Polisario and explains the reasons behind Brahim Ghali's plaintive letter to the UN Secretary General.