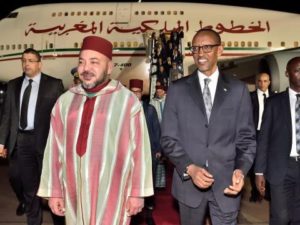 Algerian diplomacy has been at a loss since Morocco announced its desire to return to the African Union, and the current tour of King Mohammed VI in three countries in East Africa (Rwanda, Tanzania and Ethiopia) has not made things any better for the Algerian regime.
In Algiers, the Generals as well as a large part of the political class are particularly worried about the impact that Morocco's return to the pan-African body will have on their country's own stature. They are most concerned that this return would shake up the lines established by Algeria in the Sahara issue.
Actually, Africa remains one of the last bastions where Algeria continues to nurture its favorite puppet, the Polisario movement, which is disputing Morocco's sovereignty over the former Spanish colony in Southern Morocco.
It is therefore not surprising to see the Algerian official news agency APS wire a dispatch ensuring that "the visit of the king of Morocco in Tanzania will not change the position of this country towards the Sahrawi people." And obviously, Algerian rulers' fears seem fully justified, as evidenced by the warm welcome reserved to the Moroccan sovereign by President Paul Kagame on Tuesday in Kigali, the first leg of his east African tour.
These fears also explain the zealous mobilization of Algerian Foreign Minister Ramtane Lamamra in this anti-Moroccan campaign. Anticipating events, the head of Algerian diplomacy has personally supervised the timing of the participation of a Polisario delegation in a meeting of the Pan African Parliament, held recently in Cairo. This participation was organized in coordination with some Egyptian circles, according to well-informed diplomatic sources.
Highly embarrassed by this affair, which may deteriorate its relations with Morocco, Egyptian diplomacy has tried to justify the Polisario delegation's presence in Egypt. The Egyptians sometimes argued that the Polisario members entered Egypt with Algerian passports, and explained at some other times that it was not Cairo, but the Pan African Parliament, which sent invitations to participants, and so on and so forth… No need to try to understand, the confusion tells a thousand words about the origin of the plot and about its instigators.