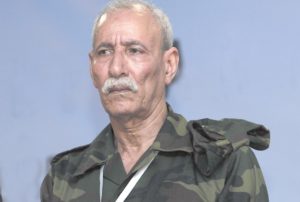 Polisario chief Brahim Ghali, a relentless torturer backed by Algerian regime, has dropped his travel plans to Spain fearing to fall in the hands of justice.
The "Wanted man" was expected to go to Spain this weekend to attend a conference organized by associations supporting the separatists.
After hesitating for many days, the former defense minister of the so-called RASD has decided finally not to go and risk to be nabbed. The culprit was hoping that his bloody criminal past will go unheeded in Spain or gone by the wind. But he was wrong.
All his hopes were dashed when Spanish national court judge Jose de la Mata decided Tuesday to reopen criminal proceedings against Brahim Ghali and other members of the polisario group for "crimes against humanity, torture, genocide and sequestration".
The news was widely circulated by various Spanish media outlets including Spanish RTVE. The Polisario leader was summoned as an accused to a Spanish court this Nov.19 following the lawsuits lodged in 2007 by the families of hundreds of victims.
Brahim Ghali was expected to attend a pro-polisario conference slated for Nov.18 19 in Vilanova in the outskirts of Barcelona. Judge Jose de la Mata ordered the Spanish police to check whether the name of the "wanted man" is in the list of the conference attendees.
After getting the Nod, Spanish police issued an alert. His name has been red-flagged in the borders security database. So, if he ever ventures to set foot in Spain, the leader of separatists, who had already problems with Spanish authorities, will be detained.
When he served as polisario representative in Madrid (1999- 2008), Brahim Ghali was sued by Sahrawis for sequestration and torture. But this time things look much more complicated and the risks much more are greater.