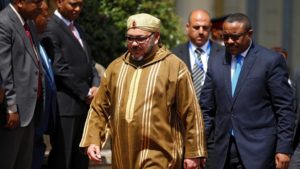 According to a well-informed source in the Tindouf camps, the Polisario front and its mentor, Algeria, are disoriented and unable to understand the rapid changes in the position of many African countries, including some which they believed were siding with their separatist thesis in the Western Sahara issue and which are now welcoming Morocco in the African lap.
The latest signs of the changes came from Ethiopia and Madagascar, which both expressed their support for Morocco's decision to reintegrate the African Union, in official statements on the occasion of the current tour of King Mohammed VI in Africa, which led him to Addis Ababa, the headquarters of the AU, and then to Antananarivo.
These painful developments for the Algerian diplomacy intervene in the wake of similar announcements by several other African capitals that Algeria used to confidently list in the camp supporting the Polisario. Actually, before Addis Ababa and Antananarivo, Rwanda and Tanzania had also welcomed Morocco's decision. A majority of 28 other African states had officially expressed, on July 18, their support for Morocco's return to AU at the next summit scheduled for January 2017.
According to the same source, the bitterness of the Polisario leaders is all the greater because Algeria's efforts to block the return of Morocco proved desperately vain. At the diplomatic and procedural level, Algiers and the Polisario ended up realizing that the procrastination of Nkosazana Dlamini-Zuma, the pro-Polisario chairwoman of the AU commission, failed.
After unexplained delays in the distribution of Morocco's official request to AU member states, South African Dlamini-Zuma was called to order by Chadian President Idriss Déby Itno. The latter, in his capacity as president of the AU summit, had a phone talk with the king of Morocco that cleared the matter up.