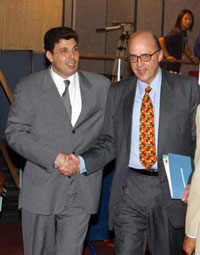 Everything seemed to be ok, when, suddenly, the machine seized up for the interests of Algeria and the Polisario Front in the United States of America, following the appointment of Hillary Rodham Clinton as State Secretary. This appointment is just not appreciated by Algeria which would certainly have preferred that the arrival of its new ambassador in USA happens in better conditions.
In fact, the President Bouteflika has just made a change in this position, when he appointed last September, Abdallah Baali, a diplomat who was working in the UNO, where he has constantly been in clash with Morocco on the Sahara issue. By appointing Baali in Washington, the Algerian President wanted, in fact, to give a new boost to the anti-Morocco campaign, led with the support of the lobbying offices close to the Republicans. In the night of Monday to Tuesday, the new ambassador has spent half of his time on the phone with the Mouradia Palace, and the other half trying to find a new link who would be close to the "strong woman" of the American diplomacy..
Actually, the stake is important, because if the Democrat office continues the policy of the Bush office in favour of the autonomy plan proposed by Morocco, it is all the Algerian strategy which would be in a bad position, while President Bouteflika counted on a change of alliance in his favour with the coming of President Obama. The only trouble in this issue, which is important, is that the New American President, seems to give to the Ex-First Lady all the liberty regarding the management of external affairs, especially issues considered "minors" among which that of the Sahara. The Ambassador Baali is, thus, in a cold sweat because his arrival in Washington would be a real ordeal by fire… if he stays as ambassador for more than six months.