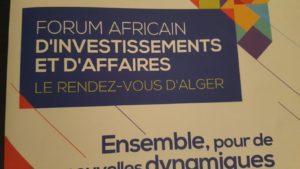 Algeria would do anything for the sake of the Polisario Front, should it make itself totally ridiculous. Destabilized by the Moroccan diplomatic offensive in Africa, Algerian leaders have repeatedly tried to reach out to the Continent, but all their attempts proved fruitless and sometimes ended up in a bitter fiasco.
This is precisely what happened at the African Investment Forum in Algiers, as the event turned into an all-out battle, or at the Arab-African summit of Malabo, which was a fiasco.
Some Algerian media have not spared Algerian officials and harshly criticized them for their inability to properly organize a meeting like the African Investment Forum. As soon as it opened, the African Forum in Algiers was marred by a clash between Prime Minister Abdelamalek Sellal and the head of the employers' association, Ali Haddad.
To the general amazement, the Prime Minister withdrew from the conference hall and was followed by the other members of his government. The man was irked by a banal change in the order of the people who were to take the floor at the opening session. "This is terrible for the image of Algeria," said an enterprise CEO, while a local paper considered that "the event was a failure" even before it started.
Decidedly, "Africa is a too much ambition for Algeria" wrote another paper which wondered how a meeting devoted to investment in Africa can be successful in the very absence of the President of the African Development Bank (AfDB.)
"While Morocco was increasing its targeted investments in Africa (telecoms, banks, agri-food industry …) Algeria was wasting its money on unnecessary or ill-prepared projects," said an Algerian e-journal. "Today, Algeria is trying to turn once again to Africa, but without any clear strategy."
At the Malabo Arab-African summit, Algerian diplomats and their lobbyists tried to have the Polisario attend the summit, but this simply led to the failure of the meeting as nine Arab countries that do not recognize the Polisario and its pseudo-Republic, SADR, withdrew from the gathering.
The Algerian political analyst Mohamed Saleh-Benteboula has maybe found the right words to describe the blunders of Algerian diplomacy:  "cacophony, stereotyped language that should be adopted as the third national language."