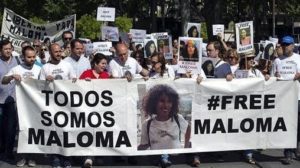 According to well-informed sources in the Tindouf camps, the Polisario leaders no longer hide their desperation as hostility towards the Algeria-backed Sahrawi movement in its historic stronghold in Spain is growing and as accusations of torture and violations of human rights against its leaders are mounting.
After the judicial proceedings launched in November by the highest Spanish court against Brahim Ghali, forcing the Polisario Chief to avoid going to the Iberian Peninsula, the Spanish civil society is also getting mobilized against the separatist front. One of the Spaniards' griefs is the sequestration of many Sahrawi women in the camps of Tindouf where they are retained against their will.
Some of these women have Spanish nationality, which partly explains the rise of hostility against the Polisario in Spain.
In this vein, one of the Spanish civil society associations, the Citizen Platform for the liberation of Sahrawi women kidnapped in Tindouf, launched an online petition calling on the Spanish government to exert pressure on the Polisario in order to obtain the release of these women forcibly detained on Algerian territory.
The emblematic figure of these sequestered women is Maloma Morales, whose Spanish adoptive family is pressing for her release. Like hundreds of other women, Maloma Morales wants to return to Spain, but her passport has been confiscated by her biological parents to prevent her from leaving Algeria.
To increase pressure for her release, the platform published a petition on the website "www.change.org", in which it calls on the Spanish government to suspend "any form of institutional, economic or financial aid" intended for the Tindouf camps until these Sahrawi women are authorized by the Polisario to return to Spain.
According to Andalusian newspaper El Diario, the petition collected more than a thousand signatures immediately after it was posted online.