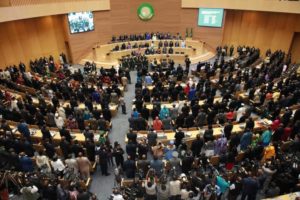 The leaders of the Polisario are getting frantic as the date of the return of Morocco within the African Union is nearing. Algerian leaders are also panicking. They try to incite their relays in Africa to attempt to hinder the kingdom's return, although they know that this return is inevitable.
The fear that has gripped the separatist front's leaders as well as their Algerian and South African backers is justified. They are all aware that Morocco's return to the African fold is likely to call into question the presence of the Polisario and its Sahara Republic (SADR) within the AU.
Actually, this presence constitutes a paradox and the SADR is in a grotesque situation. The so-called "state" is sitting at the AU, but is recognized only by a minority of the AU member countries. At present, only about fifteen countries out of the 54 AU member states recognize the SADR, self-proclaimed by the Polisario with the support of Algeria.
The situation is unprecedented in the history of regional organizations, but it seems that the Polisario and its mentor, Algeria, have fully, but belatedly, realized the absurdity of the situation.
It is obviously in a bid to ward off this misfortune that Algerian diplomacy is circulating rumors alleging that Morocco's return to the AU will sow dissensions and will sound the death knell of the African organization. The recent visit the Polisario Chief, Brahim Ghali, paid to Pretoria is to be placed in this context of maneuvering.
The objective of the Algiers-Pretoria axis is clearly to put the Polisario leader back in the saddle, suggesting that Morocco's accession to the AU would amount to a recognition of the SADR, in line with the Au constitutive act.
Yet, all the African states that had, in the past, recognized the pseudo-republic and later on withdrew their recognition, had never been accused of failing to comply with the founding statutes of the African Union.
The situation of embarrassment in which the Polisario and Algeria find themselves entangled in explains the agitation that seized them a few days ahead of the official announcement of Morocco's accession to the Pan-African organization.