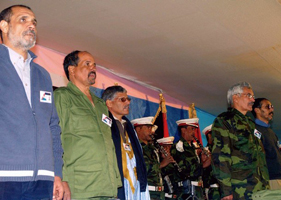 According to some reliable information that reached the « Polisario Confidential », some Spanish Councils and autonomous communities would take important legal actions against some associations established in Spain and managed by the Polisario Front. These Spanish authorities accuse the associations of not presenting any proof of payment for their expenditures while they have received many subsidies of about 2 million Euros. The amount subject of the accusation is about 1.35 million Euros which use has not been determined by the accounting services in the City Councils and the autonomous communities.
Despite of some warnings, certain associations have just disappeared, and some of their members have vanished after having made important cash withdrawal from the associations' accounts. "swindling is much more important than that" as confirmed to us by a person close to the Guerrilla managers, whom we contacted by phone, and according to him, "the Polisario Front, which has well integrated the financing techniques learned from the revolutionary movements with which it has been trained in the 70s, has created a multitude of associations in Spain which serve only to finance the Polisario secret funds and to set up a bank to grant favours".
According to our information, the amount of aids granted by the Spanish local communities to associations close to the Polisario Front and established in Spain, is about 20 million Euros per year.