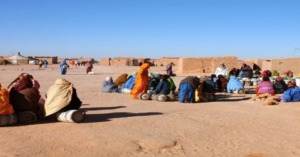 For how long can Algeria still hide the abuses taking place in the Tindouf camps, where thousands of Sahrawis languish under the iron fist of the Polisario, beyond any kind of international control?
The question is posed again with the increasing number of reports by international NGOs, including Amnesty International, on the serious human rights violations that have been committed in the Tindouf camps, in Algeria, for the past four decades.
What is most worrying is that as long as these serious abuses remain unpunished, the Polisario continues its practices against the Sahrawi populations sequestered in the camps, violating their basic human rights and infringing on their right to free expression and freedom of movement.
These violations of the fundamental rights of the populations forcibly held in the Tindouf camps are accompanied by intimidation practices in which the Polisario Front, claiming the independence of a sovereign State's territory (Western Sahara in southern Morocco), has become expert.
Human rights advocates and the judiciary are well aware of these abuses and try to oppose them when they can, following the example of the Audiencia Nacionale, Spain's Supreme Court,  which is prosecuting the Polisario Leader. Accused of crimes against humanity and torture, Brahim Ghali can no longer travel to Spain or anywhere else in Europe.
Yet, if the Polisario can evade international condemnations as a separatist movement, this is not the case of Algeria, which, as a State, should not be spared.
Unfortunately, Algerian authorities continue to turn a blind eye and a deaf ear to the overwhelming evidence of human rights abuses in the Tindouf camps in Algerian territory.
Likewise, Algeria continues to ignore the repeated calls of the UN Security Council to authorize the identification of the Sahrawi populations in these camps, and in so doing, it becomes the accomplice of the Polisario in the human rights abuses and crimes committed on its soil.