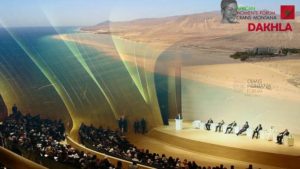 A feeling of helplessness has overwhelmed the Polisario leaders because of their powerlessness to undermine the holding of the renowned Crans Montana Forum in Dakhla, a seaside city of Western Sahara in southern Morocco, as of March 16 through 21.
Their failure is all the bitter as the Crans Montana Forum is being held for the third consecutive year in Dakhla. The role played by the Swiss Forum as a focal point is recognized by all major international organizations.
Just few weeks after Morocco triumphantly returned to the African Union, more than a thousand participants from all over the world will be flocking to this peninsular city to exchange viewpoints on the future of the African mounting generations and the potential of South-South cooperation in the continent.
And to make matters worse, the crisis of Guergarate is harming the Sahrawi front. While Morocco is hosting in its Saharan regions this Forum of major political, economic and civil society decision-makers from around the world, the Polisario finds itself stuck in the shifting sands of Guergarate.
The Polisario's refusal to withdraw from this 6km-long buffer zone, between Morocco and Mauritania, despite the UN Secretary-General's call, confirms to all  that the separatist front is a destabilization factor in the region.
The Polisario leader Brahim Ghali is perfectly aware that they were put in this inextricable situation by the Algerian generals, but he does not know how to get out of it.
On the one hand, the front is at risk to be definitely in conflict with the UN Secretary-General Antonio Guterres and the international community. On the other hand, the separatist leader does not dare to irritate Algeria, which is hosting the front in Tindouf and which is offering it material and military support. Is it no time to get out of this quagmire?