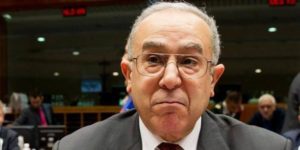 The failure of the Polisario leader to influence the UN Secretary General as to the challenge the separatist front is posing in the buffer strip of Guerguarat prompted Algerian officials to turn towards Africa and activate their diplomatic relays there.
The first move was made at the meeting Monday of the African Union Peace and Security Council, an AU body that is headed by Algerian Smail Chergui and that Algeria considers as its own preserve.
The objective of this Algerian diplomatic offensive is manifold, but focuses on the Sahara issue and Algeria's obstinate support to the Polisario. For Algiers, it is a matter of hijacking the diplomatic agenda in Africa after it lost it to Morocco.
The situation reversed on a backdrop of political vacuum at the helm of the state in Algeria, in view of President Bouteflika's health condition and the clans' divide under the silent but no less disturbing gaze of the generals.
Actually, Morocco scored points with its triumphant return to the Pan-African organization at the 28th AU summit held in Addis Ababa in January 2017, a summit that has become a landmark in the AU history.
The official enactment of Morocco's return had been preceded by the request a majority of 28 African states addressed to the AU Commission calling for the suspension of the pseudo-SADR from the continental organization.
This first great diplomatic success obviously increased the ambitions of Morocco, which is now knocking at the door of ECOWAS.
All these diplomatic changes have destabilized Algerian leaders who attempt, by all means, to retake control of the situation, launching diplomatic initiatives, but also igniting military overbidding.
The diplomatic moves have for a setting the African Union and the United Nations, as the Security Council meeting on the Sahara at the end of April is nearing. The military attempts are illustrated by Algeria's disproportionate militarization and its endeavors to incite the Polisario to threaten to resort to arms against Morocco, and to maintain the showdown in Guerguarate, even though this may endanger the security of the entire region.