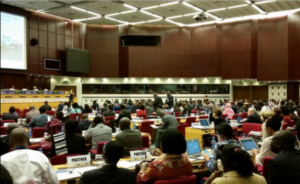 The postponement sine die of the meeting of the UN Economic Commission for Africa (ECA), initially scheduled for March 23-25 in Dakar, illustrates the new diplomatic showdown between Morocco and Algeria through the Polisario proxy. Above all, it reflects Rabat's determination to forfend systematically all the blows of Algiers.
Two months after its return to the African Union, Morocco knows that the game is just beginning with the Algiers-Pretoria axis that is so hostile to Morocco on the Sahara issue, and therefore, uses sound political and legal arguments that cannot be rejected.
The non-recognition by the UN of the pseudo-SADR, self-proclaimed by the Polisario with the support of Algeria, makes the core of the Moroccan diplomacy guidelines. And in Dakar, the Algeria-backed Polisario failed miserably to present the SADR as the representative of the Sahrawi population.
Actually, the representatives of the elected councils of Laâyoune-Sakia El Hamra and Dakhla-Oued Eddahab, two large regions of the Sahara, were present in the Senegalese capital. Mhamed Abba, vice-president of the council of Laâyoune-Sakia El Hamra region, made it clear that the Polisario's representative is not and cannot be the mouthpiece of the Sahrawi population.
"This is a mistake and we explained it to many countries," Mhamed Abba argues. It was because of this illegal intrusion that the Dakar meeting could not take place, as "it lacked the necessary legitimacy".
The Moroccan delegation drew the attention of the Chairman of the Bureau of the Committee of Experts on this legal problem and expressed Morocco's objection to the participation of a non-UN member in a meeting held under the auspices of the United Nations, period.