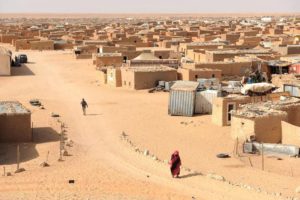 As the situation in the Tindouf camps is increasingly deteriorating and the Sahrawi population's discontent is mounting, the Polisario leader summoned the dignitaries of the separatist movement to return to live in the camps with their families in order to set an example.
For Brahim Ghali, whose remarks are reported by a pro-Polisario website, it has become unacceptable that the Front's apparatchik and their families continue to live comfortably in their villas and cozy apartments in Spain, at a time when the Sahrawis are living in dire conditions in makeshift settlements.
The leader of the Algeria-backed separatist front said his decision was "indisputable and could not be subject to blackmail or pressure". He even threatened to take "exemplary sanctions against any offender, regardless of his rank in the Polisario hierarchy", according to the portal.
By uttering these threats, Brahim Ghali knows that his order will face the reluctance and even the resistance of several Sahrawi leaders. The Front dignitaries are reluctant to bring their families to the Tindouf camps and prefer to settle abroad where their children can live away from the miserable living conditions in the camps and attend good schools.
Actually, sources in the Tindouf camps say, Brahim Ghali's exasperation was fueled by the wave of anger and outrage prevailing in the camps. The Sahrawis of Tindouf are exhausted by long years of misery, deprivation and prohibition to move or express themselves freely and are becoming more and more aware that Algeria and the Polisario are just using them as a trump card in the Western Sahara issue and do not care about their sufferings.
The camps population are now convinced that their role is limited to serving as a means of pressure to blackmail Morocco and the international community. And this is what makes Brahim Ghali's anger more bitter and his reaction against the Polisario leaders unpredictable.