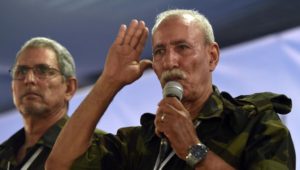 The Polisario finds itself cornered after the warning shot of the Secretary-General, Antonio Guterres.
Guterres actually asked the Security Council to exact that the separatist front withdraws completely and immediately from Guerguarat, the buffer zone it currently occupies in violation of the ceasefire.
Guterres said in the report he submitted to the Security Council on Monday that "this presence may lead to the collapse of the ceasefire." It can even have a dangerous impact on the security and stability of the entire region, the UN Secretary-General said in his report to be examined by the Security Council by month's end.
Guterres also expresses disappointment at the refusal of the Polisario to withdraw from the buffer zone, while Morocco withdrew unilaterally following a phone call last February between King Mohammed VI and Antonio Guterres.
So, by maintaining its armed elements in the buffer zone, the Polisario enters in direct confrontation with the Security Council.
In fact, the Polisario's stubbornness is an indirect reaction of Algeria to Antonio Guterres and to the probable appointment of former German President Horst Köhler as the new UN mediator in the Sahara issue, in replacement of the American Christopher Ross.
The appointment of a European as mediator is not to the liking of the Algerian leaders who still have in memory the conclusions reached by the former UN envoy, the Dutch Peter Van Walsum.
In 2008, Peter Van Walsum made it clear before the Security Council that the independence of Western Sahara was not a realistic proposal. "I felt the need to reiterate this conclusion. My interlocutors in Tindouf and Algiers did not contest my analysis, but they expressed their strong disagreement with my conclusion."
Moreover, Algiers does not appreciate the report paragraphs in which Guterres states: "Over the years, the Council has provided guidance that negotiations should take place without preconditions, in good faith, given the efforts made since 2006 and the subsequent developments and to work with realism and a spirit of compromise."
However, the efforts made since 2006 were Morocco's. The kingdom showed good faith and put forward the proposal for autonomy in the Sahara.