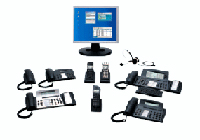 It is a real mini-revolution within the Polisario Front movement nomenclature, since the Front finance manager has decided to severely reduce the phone bill, by putting an end to any line rental considered "unnecessary", in order to reduce the budget seriously affected by the financial crisis.
In fact, the main financial backer of the Polisario Front, the Algerian State, has decided in these beginnings of 2009, which are more than uncertain, to reduce by half the budget allocated to the movement's telecoms, applied directly to the movement bigwigs who used their precious satellite phone to get in touch with their families and friends living in majority in Spain.
This phone bill reduction has aroused the anger of the historical Front administration members, who are no more handling administrative positions but still keeping an important formal one.
In fact, those concerned by this financial restructuring are the old executives. Thus, they have spoken to the Polisario Secretary General, Mohamed Abdelaziz who promised them to restore their precious line rental. But once he consulted his man of finance, the guerrilla has been convinced by the latter's arguments and accepted that the movement line rental be reduced. Unfortunately for him, Mohamed Abdelaziz has no more means through which to inform the executives concerned by this bad news, as their phone numbers are continuously announcing either … absent subscriber or out of service.