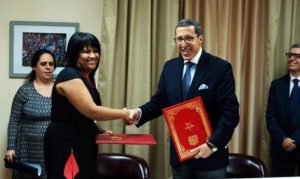 The separatist front leaders have been unsettled by Mohammed VI's latest diplomatic offensive in Cuba, says a well-informed source in the Polisario-run Tindouf camps, in Algeria.
The confusion of Brahim Ghali and his lieutenants is however understandable. Just three months after the triumphant return of the Kingdom to the African Union, the king of Morocco stormed one of the last strongholds of the Polisario in South America .
The move intensifies the separatist front's disarray, and at the same time exacerbates the animosity of Algerian diplomacy, which considers the Sahara issue as its main concern on the international scene. By announcing the restoration of its diplomatic relations with Cuba and the coming exchange of ambassadors between Rabat and Havana, Morocco has aggravated the isolation of the Polisario.
And as an extension of that, it has distressed Algerian diplomacy, whose puppet Polisario is obviously losing more and more support in Africa and Latin America. Cuba along with Venezuela are the most important political and diplomatic supporters of the Polisario in the Latin American sub-continent.
King Mohammed VI, abandoning the policy of the empty chair long adopted by the late Hassan II, privileges openness, including onto Morocco's opponents in the Western Sahara issue.
This policy has proved its effectiveness in Africa, with Morocco's return within the AU, but also in Latin America. Chile and a large number of other States in the region now consider positively Morocco's autonomy plan to settle the Sahara issue.
And it is precisely this deliberately offensive diplomacy conducted by Mohammed VI that worries the Polisario and disturbs the generals in Algeria. Today, only a few countries still recognize the peudo-Sahraoui republic, SADR, self-proclaimed by the Polisario with the active support of Algeria. Neither the UN nor any major capital in the world recognize this whimsical republic.