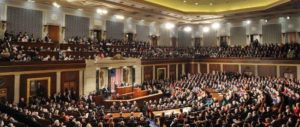 US President Donald Trump promulgated last Friday (May 5), the 2017 Appropriation Bill that was adopted earlier the same day by the Congress.
The Law and its accompanying report, to the consternation of Algeria and the Polisario, reaffirm the support of the US Congress to the Moroccan Autonomy Initiative for Western Sahara under Moroccan sovereignty.
The accompanying report explaining the law provisions unambiguously reaffirms the support of the American Administration and Congress to the Moroccan autonomy plan.
"The Secretary of State should pursue a negotiated settlement of this dispute, in accordance with the policy of the United States to support a solution based on the autonomy approach, under Moroccan sovereignty," states the accompanying report.
The Moroccan Foreign Ministry was quick to welcome the United States' support for "a solution based on the autonomy approach under Moroccan sovereignty."
"The Kingdom of Morocco welcomes the provisions relating to the Moroccan Sahara contained in the US 2017 Appropriation bill, adopted by the Congress and promulgated today (Friday) by President Donald Trump," the statement said.
The bill also provides for the use of funds allocated to Morocco in all the national territory including in Western Sahara.
The same document urges the American administration to encourage "the (American) private sector's investments in Western Sahara", ignoring the gesticulations of the Polisario Front and of the Algerian leaders and media, which criticize any foreign investment in the Sahara.
Moreover, the law asks the Secretary of State to submit a report, within 45 days, "describing the measures taken to strengthen the monitoring of humanitarian assistance supply to refugees in North Africa", including, of course, the populations sequestered in the Tindouf camps, in the Algerian desert. A clear allusion to the diversion of international aid destined to the Tindouf camps populations by the Polisario leaders, in connivance with Algerian officials.