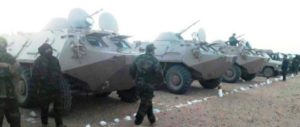 CIA declassified documents have confirmed what everyone already suspected: Algeria supplied the Polisario Front with sophisticated weapons and equipment at the height of the armed clashes with Morocco in the 1980s.
Algeria supplied the separatist movement with, among other equipment, radars able to detect with great precision the trajectory of the Moroccan army's combat aircraft.
The documents of the American Central Intelligence Agency reveal even the types of sophisticated radars delivered by the Algerian generals to the Polisario: Thin Skin B and Spoon Rest. All this paraphernalia was installed in 1984 near Morocco's borders.
The Polisario, which claims the independence of the Moroccan southern zones in Western Sahara, did not have the competent staff capable of properly handling this type of highly sophisticated equipment. Therefore, the Algerian military were entrusted with training the Polisario militia, and at the same time, with ensuring the maintenance of the equipment.
However, despite the ceasefire signed under the aegis of the United Nations in 1991, Algeria did not stop its arms deliveries to the Polisario. The armored vehicles, ground-to-air missiles and all-terrain vehicles displayed by the Polisario in February in front of the Algerian media cameras evidence that Algeria is still supplying the separatists with armament.
However, this show of force does not worry the Moroccan army, nor it is likely to change the balance of power on the ground either. The only risk of this demonstration of force lies in the contingency of destabilizing the whole region.